Today: 'Not From Above!' is published and released!
Posted on April 25, 2019 by Alex Mayor
It's out. It is en-released. It is in the wild. And it's even in some shops! (Champagne and party hat emoji here. Ed.)
Yes folks, 'Not From Above!', my book of darkly comic stories and accompanying 12-track album of songs, is finally out. The album was finished in 2017 on a lovely floating boat studio in London, and the book crowdfunded into existence by supporters all over the world in late 2018.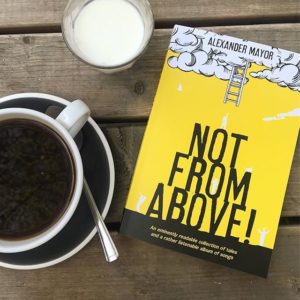 Since then the book has been professionally prepared and improved by the lovely team at Unbound; the fact-checking alone should get a high-five. Ahem!
As of 25th April, the book's available from Amazon, Waterstones, The Owl Bookshop, Pages of Hackney, with more independents being added all the time. The album is available as a Bandcamp exclusive until June, after which it'll be on Spotify, Apple Music and all the other streaming services too. A vinyl EP of four songs will be available in mid-May. More on that, later…
Order your copy:
Amazon | Waterstones | Bandcamp
This has been my first foray into fiction, an enjoyable new way to think creatively about the many strange aspects of life, love and London. I'll write a longer blog post about the actual stories, and the wonderful musicians who play on the album soon. For now, thanks to everyone who supported this project – you helped make it happen.
Oh and there's a little launch party if you'd like to come along:
https://www.eventbrite.com/…
AFH x